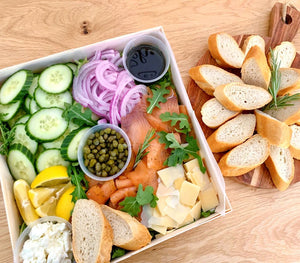 Enjoy this exquisite Smoked Salmon Box together with our delicious platters for an amazing feast! 
This delicious shareable box includes smoked salmon, cucumber, onions, shaved parmesan, lemon wedges, capers, goat cheese, oil and vinegar and sliced baguettes.

Palm leaf box size: 10in x 10in

Serves approx. 4 - 6 people.
Allergy Warning: Overwood® products may contain these ingredients: milk, eggs, wheat, soybean, peanuts and tree nuts.