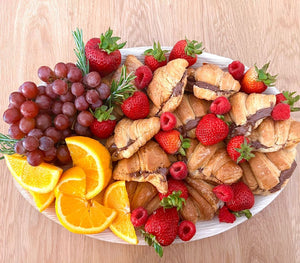 This delicious sweet tray includes a dozen mini croissants filled with Nutella spread, a combination of fresh berries, grapes and oranges. This is a great option to complement a cheese board or as a breakfast platter.
Palm Leaf Tray size: approx. 15in x 10in
Allergy Warning: Overwood® products may contain these ingredients: milk, eggs, wheat, soybean, peanuts and tree nuts.