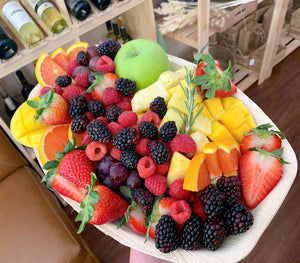 Looking for a healthy yet beautiful and delicious fruit tray? This is perfect for you! With its amazing popping colors, this fruit tray is a great healthy option.
This Freshly prepared tray includes a mix of tropical fruits such as strawberries, mangoes, pineapple, grapes, oranges, blackberries, raspberries and apple served on our palm leaf tray.
Allergy Warning: Overwood® products may contain these ingredients: milk, eggs, wheat, soybean, peanuts and tree nuts.