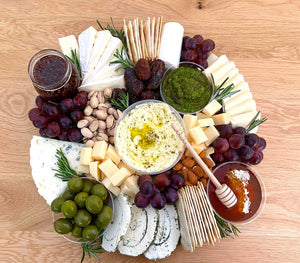 This fabulous board is the true definition of a "GOURMET CHEESE PLATTER", made with an amazing combination of cheeses. With the different textures and flavors found in it we are 100% sure you and your guests will love it!
This delightful board includes Le Roule cheese, goat cheese, taleggio cheese, parmesan, blue cheese, our special feta cheese dip, brie cheese, fresh grapes, dates, olives, crackers, almonds, pistachios, pesto spread, honey and fig spread. You get to choose if you want it on our high quality cutting board that you get to keep as a beautiful gift OR our sturdy palm leaf tray. **INCLUDES HALF BAGUETTE SLICED (based on availability) & MINI WOODEN FORKS**

Wood board & Palm Leaf tray size: approx. 15 in. diameter
Allergy Warning: Overwood® products may contain these ingredients: milk, eggs, wheat, soybean, peanuts and tree nuts.