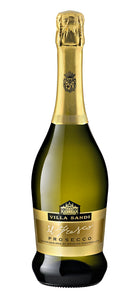 This Prosecco exhibits on the nose aromas of ripe golden apples, acacia, and honeysuckle. On the palate, the wine is dry, fresh and fruit-driven with citrus and stone-fruit flavors. Consider pairing with Brie, Camembert and Parmesan.
This wine goes great with our Deluxe Board, Aromatic Board, Soft Moon, Classic Board and Cooper Board.
You expressly represent and warrant that: (i) you and/or your recipient are of Legal Age; and (ii) you and/or your recipient will provide bona fide government-issued photo identification to your delivery person upon delivery. In case recipient is not available, the person receiving the delivery must show a valid form of identification to show they are of Legal Age. Deliveries of Alcoholic Beverages may not be made to anyone who is intoxicated, regardless of his or her age.